Unleashing the Power of SEO Clustering: Harnessing the Partner Network Ecosystem through eZ-XPO's Virtual Collaborative Network (Part 2)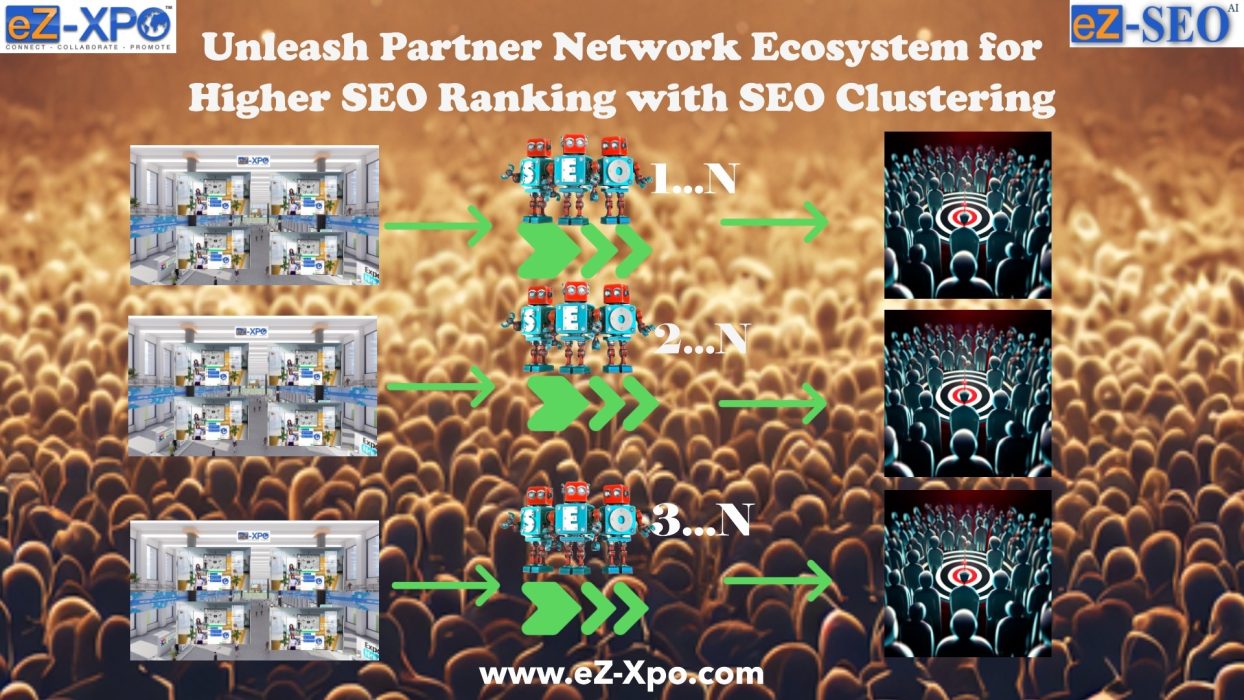 Executive Summary:
This article explores how businesses can improve search engine rankings through SEO clustering by leveraging strategic partnerships and eZ-XPO's AI-Virtual Collaborative Network. SEO clustering involves grouping related content to enhance search engine visibility, and by collaborating with strategic partners, businesses can access a wider range of expertise and diversify their content offerings.
The eZ-XPO platform offers features such as content distribution, cross-linking, resource sharing, and industry-specific communities, all contributing to effective SEO clustering. Additionally, exhibitor booths within the platform, combined with the eZ-SEO Booster feature, allow businesses to provide consistent and optimized content, leading to daily indexing and the creation of valuable backlinks. By utilizing these strategies, businesses can enhance their SEO performance, improve search engine rankings, and increase online visibility.
Introduction
In today's fiercely competitive digital landscape, effectively implementing Search Engine Optimization (SEO) is vital for driving organic traffic to websites. Among the various techniques available, SEO clustering has proven to be a powerful strategy for improving search engine rankings. By leveraging strategic partners' content and harnessing the capabilities of eZ-XPO's Virtual Collaborative Network, businesses can optimize their SEO clustering efforts and achieve higher rankings in search engine results pages (SERPs).
Understanding SEO Clustering
SEO clustering involves creating clusters of related content centered around a central topic or pillar page. This approach emphasizes interlinking relevant pages within the cluster, establishing a hierarchical structure that conveys the significance and relevance of the content to search engines. By organizing content this way, websites can enhance their visibility in search results. Search engines interpret the interconnectedness as an indication of authority and expertise, resulting in improved rankings.
The Role of Strategic Partners
Strategic partners are companies or individuals with complementary products, services, or target audiences. Leveraging the content of strategic partners can significantly benefit SEO clustering efforts. Collaboration with such partners allows businesses to access a broader range of resources and expertise, enhancing the depth and breadth of their content offerings.
When selecting strategic partners, it is crucial to identify relevant and reputable sources whose content aligns with the overall SEO strategy. These partners can contribute high-quality content, including guest blog posts, co-created articles, or shared resources, which support clustering efforts by incorporating diverse perspectives and expertise.
eZ-XPO's AI-Virtual Collaborative Network Strategy
eZ-XPO's AI-Virtual Collaborative Network enables businesses to connect, collaborate, and share content within a virtual network ecosystem. This platform provides an ideal environment for implementing an effective SEO clustering strategy and also promoting every strategic partner with its content.
Content Distribution and Amplification: The Virtual Collaborative Network facilitates easy distribution and amplification of content to a broader audience through multiple channels – Virtual Space and Virtual Auditorium. Businesses can leverage partner networks by collaborating with strategic partners, expanding their reach, and increasing the likelihood of content being shared, linked to, and referenced. This, in turn, enhances overall SEO performance.
Cross-Linking and Interconnectedness: eZ-XPO's platform promotes cross-linking between businesses and their strategic partners. By linking related content within the network, businesses establish an interconnected web of information that search engines recognize as a valuable resource. This signals to search engines the relevance and authority of the content, thereby boosting the SEO rankings of all involved parties.
Resource Sharing and Expertise: The AI-Virtual Collaborative Network facilitates resource sharing and collaboration in content creation through Virtual Summits and Virtual Podcast in the Auditorium. Through pooling their expertise, strategic partners can develop comprehensive and informative content that covers various aspects of a given topic. This collaborative approach leads to higher-quality content, further enhancing SEO clustering efforts.
Industry-Specific Communities: eZ-XPO's platform hosts industry-specific communities, bringing together businesses and professionals with shared interests. Active participation in these communities allows businesses to network with like-minded individuals, establish thought leadership, and gain exposure. By contributing valuable content to these communities, businesses can improve their SEO clustering efforts within their specific industries.
The Competitive Advantage of Promoting Strategic Partners' Content
In addition to leveraging strategic partners' content, eZ-XPO's Virtual Collaborative Network offers exhibitor booths a valuable opportunity to provide consistent and daily content to Google Search while generating valuable backlinks.
Exhibitor Booths and Consistent Content Creation: Within eZ-XPO's platform, exhibitor booths function as virtual spaces for businesses to showcase their products, services, and expertise. Regular updates with fresh content, such as blog posts, articles, videos, or product updates, create a consistent stream of information that search engines can index and display in search results.
eZ-SEO Booster: The eZ-SEOAI Booster feature within eZ-XPO's platform optimizes exhibitor booth content leveraging eZ-GPT for search engines. It provides tools and guidance for optimizing content, including relevant keywords, meta tags, descriptions, and other SEO elements. This feature ensures that the content within exhibitor booths is search engine-friendly, increasing its chances of ranking higher in search results.
Daily Content Indexing: Through consistent content creation and eZ-SEO Booster, exhibitor booths benefit from daily content indexing by Google and other search engines. The web crawlers regularly visit eZ-XPO's platform to index and update the content within exhibitor booths. Consequently, any new content added by exhibitors is more likely to be quickly discovered and included in search results, providing greater visibility to their target audience.
Creation of Backlinks: The eZ-XPO platform offers exhibitors various opportunities to create backlinks. Backlinks are incoming links from external websites that direct users to the exhibitor's booth or specific content. Through collaboration with strategic partners, exhibitors can cross-link their booths and content, establishing a network of backlinks. Additionally, active engagement with industry-specific communities within the platform enables exhibitors to contribute valuable content that attracts backlinks from other members and participants. These backlinks contribute to a more robust off-page SEO profile and can improve search engine rankings.
By combining exhibitor booths, consistent content creation, the eZ-SEO Booster feature, and the ability to generate backlinks through collaboration and community engagement, businesses can achieve a powerful synergy for enhancing SEO performance. Utilizing eZ-XPO's platform allows exhibitors to establish themselves as authoritative sources, drive organic traffic through daily content indexing, and improve SEO clustering efforts by earning valuable backlinks from reputable sources.
Conclusion
In conclusion, eZ-XPO's Virtual Collaborative Network, when combined with the eZ-SEO Booster feature and exhibitor booths, provides businesses with a comprehensive solution for delivering consistent and daily content to Google Search. Through optimized content, regular updates, collaboration, and backlink creation, businesses can enhance their SEO strategies, improve search engine rankings, and gain significant online visibility. By adopting a collaborative approach and leveraging the power of strategic partnerships, businesses can strengthen their SEO performance and establish themselves as authorities in their respective domains.
To learn more about how to supercharge your SEO ranking for daily organic traffic and leads, please book a FREE consultation here.
https://www.linkedin.com/pulse/unleashing-power-seo-clustering-harnessing-partner-network-matt-fok%3FtrackingId=RJMS1zk%252BR9SGM8y9NXkMrg%253D%253D/?trackingId=RJMS1zk%2BR9SGM8y9NXkMrg%3D%3D
#podcast #chat #zoom #virtualexponetwork #exhibition #seomarketing
#leadgeneration #seo #seotips #virtualcollaboration #virtualconferences
#podcast #chat #zoom #virtualexponetwork #exhibition
#leadgeneration #seo #seotips #virtualcollaboration #virtualconferences
#podcast #chat #zoom #virtualexponetwork #exhibition
#leadgeneration #seo #seotips #virtualcollaboration #virtualconferences