SUMMARY:
Empowering regional innovation clusters across different cities and regions, GBI Global Business Incubation in joint partnership with eZ-Xpo presents a Private Startup Network Marketplace offering a virtual trade show, virtual social learning, virtual job fair, and virtual trade mission 24/7 for all industries.
SAN FRANCISCO, CA – October 31, 2013 – eZ-Xpo today announced a strategic partnership agreement with Global Business Incubation, GBI to jumpstart local business and startup ecosystem by helping them expand beyond their local reach through virtual expo marketplaces, virtual trade missions, virtual social learning and virtual job fairs. The first kick-off GBI Virtual Global Business Incubation Marketplace will complement with its physical event series "Winning in the New Virtual Collaborative Economy" at CSULB Student Life and Development in Long Beach, California.
Together with eZ-Xpo, GBI – Virtual Global Business Incubation Marketplace will empower young visionaries, small business and early-stage startups to engage and connect with potential investors and strategic partners across different industries for potential partnerships and collaboration.
"We are excited to join forces with eZ-Xpo to jumpstart the local and startup ecosystem with this powerful game changer to help build a global entrepreneurial business incubation ecosystem, allowing innovation clusters in every city, state, and country," said Tonia McDonald, President of GBI.
"Not only will this help accelerate entrepreneurial innovation for early startups and expand local reach and exports, but it will also boost local jobs with eZ-Xpo's Virtual Job Fair and crowdsourcing capabilities," she added.
"GBI is a new game changing entrepreneurial incubation organization and we are proud to help them empower all entrepreneurs and local business for global collaboration beyond traditional local reach. With GBI – Virtual Global Business Incubation Marketplace, every entrepreneur and local business can showcase their great ideas and innovation to local and global investors in a virtual booth. Angel and VC investors can pre-screen startups based product life stage, investment size, and industry. Entrepreneurs can engage with potential investors through chat and live webinar," explained Matt Fok, CEO of eZ-Xpo.
"With this entrepreneurial environment, together we can help accelerate innovation from cool ideas to commercial stage with joint collaboration with every stakeholder from industry leaders, mentors, and academia," added Fok.
Key features of the GBI – Virtual Global Business Incubation Marketplace includes:
Daily Deal – Offering daily deal and discounts for every member. Exhibitors can offer special discounts on their products and services and build a long-term business relationship in their virtual booth.
Virtual Local Business Showcase – Offering unlimited virtual showcase for entrepreneurs to practice their pitch before talking to investors. Peers and mentors can offer constructive critiques and feedback on business ideas and pitch. It is a great complementary solution for all physical startup pitch, trade shows or conferences. GBI can host virtual local business expos on a monthly basis with a specific targeted niche industry (i.e., banking, real estate, insurance, health care etc.). Attendees can engage with each exhibitor both on-demand or live via chat, Google Hangout, Skype, or web conferencing.
Deal Flow Screening – Angel and VC investors can screen out startup companies based on product life cycle stage (i.e., prototype, beta, and launch), investment size, industry, and revenue.
Empowering your sales force: With GBI- Virtual Global Business Incubation Marketplace, marketing and sales teams can listen and respond to community conversations to gain a better understanding of your customers' business needs while at the same time gain access to qualified buyers. Exhibitors can get all qualified leads with contact information instantly from the virtual booth.
Automatic Marketing Automation – Each virtual booth can automatically feed qualified leads (attendees) to exhibitor's CRM application (i.e., SalesForce, SugarCRM) and email campaign application (i.e., MailChimp, Constant Contact, and Aweber) for higher marketing ROI.
Marketing Intelligence – Each virtual booth has built-in marketing analytics to track each attendee activity. Exhibitor can easily identify their best qualified prospect based on their visit duration and the actual marketing content they have viewed.
Knowledge sharing: Each virtual booth comes with a variety of online resources like discussion forums, product tours for product documentation and how-to videos to help customers find solutions and solve problems. StartupExpo365 makes it easy for people to discover and share interesting content with familiar social networking tools such as "likes" and @mentions.
Social self-service: Providing self-service through peer-to-peer support forums and online FAQs saves you money and it also saves your customers time. Exhibitors can host their FAQs in their virtual booth and only surfaces the most relevant information, delivering your customers the right answers in real-time.
Virtual Business Ecosystem through your Private Business Network Marketplace – It's easy for every community to build its own private virtual business ecosystem with specific strategic partners and customers. The key difference between the Private Business Network Marketplace from Facebook and Linkedin is that participants have total control of the content, and policy administration on the marketplace. With a single universal login, attendees can easily navigate from one marketplace (i.e., Virtual Local Business Expo, Virtual Job Fair, and Social Learning Marketplace) to other strategic partners' marketplaces.
The Virtual GBI  Global Business Incubation Marketplace is open for early adopters now. For all early adopters and game changers, please contact Tonia McDonald, at [email protected] or [email protected] , President at GBI or Matt Fok, CEO of eZ-Xpo at [email protected]
For valuable expert tips and advice on "How to JumpStart Your Business", grab a free subscription to a new business magazine by joining here
* Product or service names mentioned herein may be the trademarks of their respective owners.
Here is a short list of sponsors and strategic partners: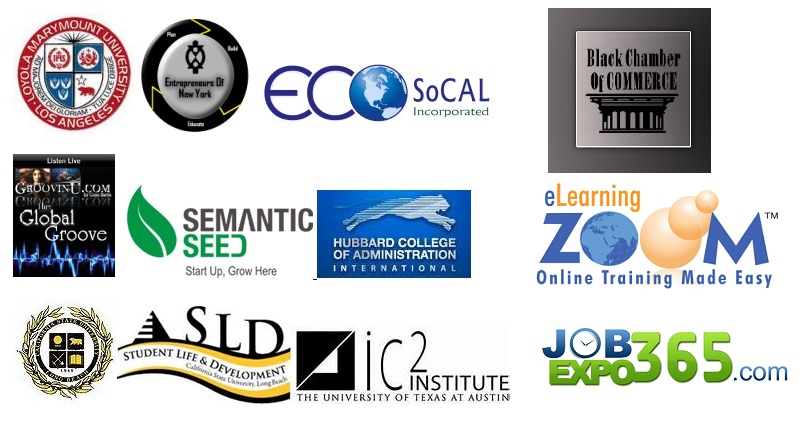 About GBI
Global Business Incubation (GBI) ) is a non-profit research development organization "think and do tank" that catalyzes the business development process of launching an idea, a business and a community through growing cooperative business incubator cluster models that grow companies.. GBI's innovative model business incubator received the Official White House Millennium Council Award in recognition of GBI as a model of the White House designed program. Honor the Past—Imagine the Future for Modeling hope, imagination and courage in incubating businesses that created hundreds of new jobs in downtown Los Angeles.. Also, during that time Dr. George Kozmetsky world renown technology entrepreneur, Co-Founder of Teledyne and first Chairman of the Board Dell Computers, served as GBI's Advisory Board Chairman.. GBI was founded in 1991 on the campus of Loyola Marymount University (LMU) at the College of Business Administration.. GBI continues to partner with LMU to host conferences, workshops, symposiums on business incubation, wealth creation, technology start-up camps and the future of technology. The GBI team is currently working with Cal State University Long Beach, (CSULB) Student Life and Development on an innovative collaborative business incubator and social entrepreneurship experiment for students, entrepreneurs, visionaries and small businesses of Long Beach.
For more information about GBI, please visit http://www.globalbusinessincubation.com/
About IC2
Innovation, Creativity and Capital, IC² Institute at the University of Texas at Austin (UTA) was founded in 1977 as a "think and do" tank to test the belief of its founder, George Kozmetsky, that technological innovation can catalyze regional economic development through the active and directional collaboration among the university, government, and private sectors. Since then, the Institute has researched the theory and practice of entrepreneurial wealth creation and has been instrumental in Austin's growth as an innovation and technology center and in the development of knowledge-based economies in over 30 countries. In addition to in-house research staff, the IC² Institute's research resources include 18 Endowed Fellows on the UT Austin faculty, a network of over 160 Global Fellows throughout the world, and a rotating cast of Visiting Scholars. Together they have used data collected from the Institute's education and service programs to produce ground-breaking work on technology commercialization, regional economic development, and entrepreneurship.
About eZ-Xpo
eZ-Xpo reinvents the trade show and lead generation industry by delivering a constant qualified organic lead system through every business partner from multiple networks of virtual expo marketplace ecosystem.
eZ-Xpo delivers the world's 1st all-in-1 virtual expo marketplace that seamlessly integrates with built-in marketing campaigns to follows up with every prospective customer during and after the event.eZ-Xpo goes beyond traditional trade show and virtual event tools by harnessing the power of the Internet, proven best of class marketing automation technologies (i.e.,SalesForce.com , Mailchimp, eZ-Contact , and eZ-Web Conferencing) and making everything available to you in an integrated and intuitive online interface.
For more information about virtual trade show events and private business network marketplace, please visit http://www.eZ-Xpo.com/
Contact:
Matt Fok
Founder and CEO
[email protected]
Phone: 1-888-718-5333