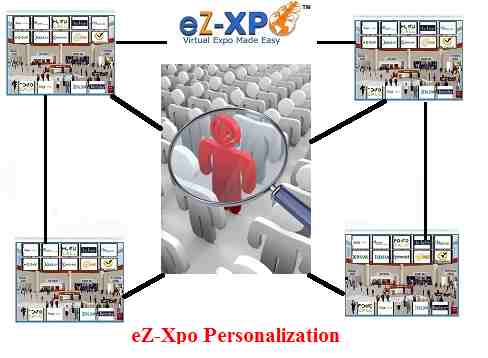 SUMMARY: Instead of searching through hundreds of virtual booths at a virtual trade show, eZ-Xpo personalizes every event with an exhibit hall and lobby based on exact attendee's preferences and product categories for higher sales conversion and marketing ROI.
SAN FRANCISCO, CA – September 4, 2013 – eZ-Xpo, the global leader in All-in-1 Virtual Trade Shows and Private Business Networking solutions, announced its newest addition to its products and services with the eZ-Xpo Personalization Engine to enhance the virtual trade show experience for every attendee and exhibitor. With eZ-Xpo Personalization, attendees no longer have to waste time searching for virtual booth of their preferred exhibitors.
According to the recent top findings in "The Realities of Online Personalization" research, 94% of marketers and 90% of agencies agree that "personalization of the web experience is critical to current and future success." The marketing world has wanted — and frankly, needed — personalized virtual trade show for a long time, but historically, there wasn't an easy way to achieve this — until now. Today, for the first time, personalization has moved beyond personalized web site to personalized virtual trade show.
"Personalization is the key to buying experience on every web site. Similarly, every virtual trade show should adopt same model for every virtual trade show. It doesn't make sense for attendees to search through hundreds or even thousand of virtual booths when they want to only see only few based on their ideal preferences in a virtual expo," said Matt Fok, Founder and CEO of eZ-Xpo.
"With this new game changer, eZ-Xpo Personalization will boost every virtual event experience 10 times and even up to 100x times better when an attendee can quickly find their exhibitors in a matter of seconds based on their personalized settings. This feature will also help boost the bottomline marketing ROI for every exhibitor as well," Fok continued.
With eZ-Xpo Personalization Engine, attendees can quickly and easily find their product showcase:
* Event Organizers – Organizers can easily and quickly personalize every virtual lobby and virtual booth through the registration form based on the targeted customers in each event.
* Exhibitors – Exhibitors can laser-target their ideal attendees (customers) by offering specific product categories for their virtual booth.
* Attendees – Once attendee fills out the registration form with their preferred product categories, the virtual trade show system will automatically personalize his/her virtual lobby, exhibit hall based on the preferred product categories.
eZ-Xpo 2.0 is built to help businesses increase sales and customer satisfaction while at the same time boost their bottom lines. The  eZ-Xpo Platform's new All-in-1 Virtual Trade Show Marketplace solution for social Customer Relationship Management offers a variety of advantages to other platforms. It includes Automatic marketing automation, Daily Deal feature, knowledge sharing and marketing intelligence.
To learn more about how eZ-Xpo Personalization Engine can propel your conference or trade show, please visit www.eZ-Xpo.com.
Product or service names mentioned herein may be the trademarks of their respective owners.
To learn more about how to JumpStart Your Next Physical Trade Show, please click here.
About eZ-Xpo
eZ-Xpo is a revolutionary new approach to virtual events, virtual trade shows, private business networking marketplace. eZ-Xpo delivers the world's 1st all-in-1 virtual expo marketplace that seamlessly integrates with built-in marketing campaigns to follows up with every prospective customer during and after the event.eZ-Xpo goes beyond traditional trade show and virtual event tools by harnessing the power of the Internet, proven best of class marketing automation technologies (i.e.,SalesForce.com, Mailchimp, and eZ-Web Conferencing) and making everything available to you in an integrated and intuitive online interface.
For more information on eZ-Xpo, please visit www.eZ-Xpo.com  or email us at [email protected] or call 1-888-718-5333
Contact Information:
eZ-Xpo
Matt Fok
Founder & CEO
Email: [email protected]
1-888-718-5333
TAGS/ keywords – Personalization, Virtual trade show, Virtual event