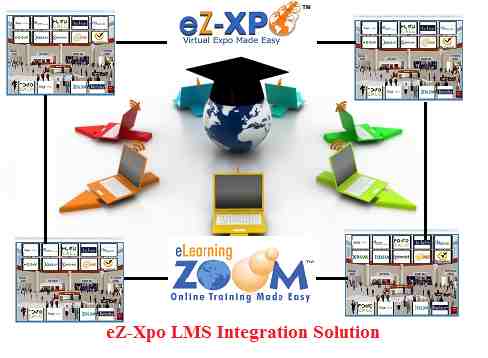 SUMMARY:  eZ-Xpo empowers event organizers, and associations to offer online continuing education courses through a single sign-on using eLearningZoom Social Learning Marketplace for virtual events, trade shows, and conferences.
SAN FRANCISCO, CA – August 22, 2013 – eZ-Xpo, the global leader in All-in-1 Virtual Trade Shows and Private Business Networking solutions, announced its newest addition with eZ-Xpo LMS (Learning Management System ) and Social Learning Integration with eLearningZoom. LMS will be able to provide online continuing education and education tracks for global live events such as trade shows, user conferences, concerts, sports, entertainment, personal events and virtual expo marketplaces.
According to the most recent Digital Event Benchmark Report from VEI (Virtual Edge Institute), almost 40% of respondents offer continuing education credits at their in-person events. VEI also found that 80% of event attendees report that having event content available online is both an incentive and a justification for attending in person.
"Content is king. Online education content and continuing education credits are definitely driving the incentive value for attendees and exhibitors to participate both in virtually any physical events," said Matt Fok, Founder and CEO of eZ-Xpo.
"We make it easier for all event organizers and exhibitors to offer online courses (both live and on-demand) by integrating Social Learning and Virtual Expo Marketplace with one single sign-on so that every attendee can take the courses at their convenience," he added. " This helps optimize everyone's time and money for maximum ROI. As a result, we can deliver the best of all worlds in a single portal," Fok continued.
With this strategic learning management system integration, eZ-Xpo and eLearningZoom can enable event organizer, attendees, and exhibitors to offer both live and on-demand courses:
* Event Organizers – Organizers have the ability to offer online courses (both live and on-demand) and continuing education for credits. Upon completion of the course, participants will receive an online certificate. Event Organizers can create a portfolio of elearning library for future attendees and exhibitors at eLearningZoom Social Learning Marketplace.
* Exhibitors – Exhibitors can easily create and update online courses (both live and on-demand) and a portfolio of elearning library to educate attendees on their products and services through eLearningZoom Social Learning Marketplace. Exhibitors can easily track attendees activities based on the course reporting analytics.
* Attendees – Attendees can easily take online courses and continuing education courses through the single sign-on integration between eZ-Xpo Network and eLearningZoom Social Learning Marketplace.
"Through a library portfolio of elearning courses, eZ-Xpo LMS Integration will continue to help revolutionize how we boost value for meeting planners, event planners, and exhibitors, attendees, every physical and virtual event," Fok added.
Available now, eZ-Xpo Network and eLearningZoom customers have access to the eZ-Xpo Learning Management System at eLearningZoom.
eZ-Xpo 2.0 is built to help businesses increase sales and customer satisfaction while at the same time boost their bottom lines. The  eZ-Xpo Platform's new All-in-1 Virtual Trade Show Marketplace solution for social Customer Relationship Management offers a variety of advantages to other platforms. It includes Automatic marketing automation, Daily Deal feature, knowledge sharing and marketing intelligence.
To learn more about how eZ-Xpo Event Management Integration can propel your conference or trade show, please visit www.eZ-Xpo.com.
Product or service names mentioned herein may be the trademarks of their respective owners.
To learn more about how to JumpStart Your Next Physical Trade Show, please click here.
About eZ-Xpo
eZ-Xpo is a revolutionary new approach to virtual events, virtual trade shows, private business networking marketplace. eZ-Xpo delivers the world's 1st all-in-1 virtual expo marketplace that seamlessly integrates with built-in marketing campaigns to follows up with every prospective customer during and after the event.eZ-Xpo goes beyond traditional trade show and virtual event tools by harnessing the power of the Internet, proven best of class marketing automation technologies (i.e.,SalesForce.com, Mailchimp, and eZ-Web Conferencing) and making everything available to you in an integrated and intuitive online interface.
For more information on eZ-Xpo, please visit www.eZ-Xpo.com
About eLearningZoom.com
eLearningZoom.com is the global leader in on-demand All-in-1 online training solution with users around the globe. Our broad suite of Software as a Service (SasS) offers companies with all in one online training solution with learning management system, email marketing campaign, and real-time conferencing capabilities for compliance, certification, and professional training.
eLearningZoom Social Learning Suite is a suite of application services consists of eZ-Web Meeting, eZ-Contact, and eZ-LMS. eLearningZoom is committed to deliver the best of class simple to use, flexible, and affordable online training solutions with focus in optimizing business performance and productivity. The company's eLearningZoom consultants have over twenty years of eLearning-Zoom and enterprise software consulting experiences with Fortune 500 clients such as Siemens AG, Hewlett Packard, and PEUGEOT. For more information on eLearningZoom, please visit http://www.eLearningZoom.com or email us at [email protected] or call 1-888-718-5333
Web site at http://www.eLearningZoom.com
Contact Information:
eZ-Xpo
Matt Fok
Founder & CEO
Email: [email protected]
1-888-718-5333
TAGS/ keywords –continuing education, learning management system, conferences, virtual trade show, social learning
http://www.i-newswire.com/ez-xpo-announces-learning-management/235677