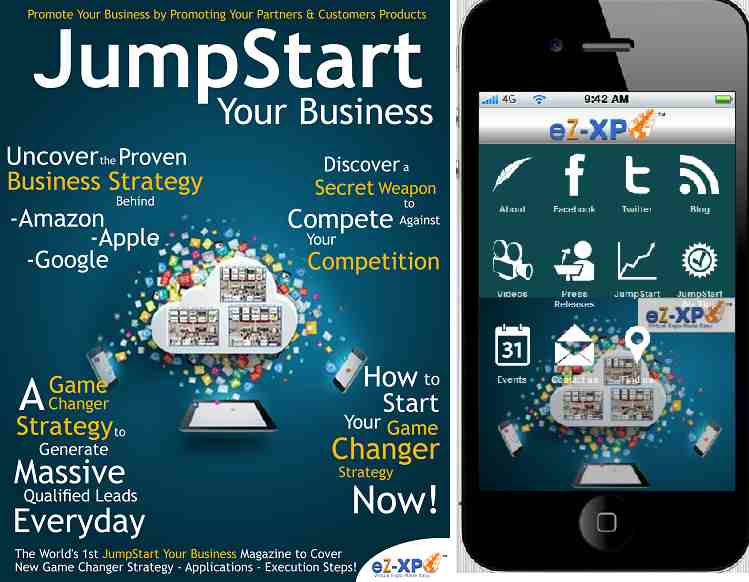 SUMMARY: Helping empower local business, entrepreneurs, non-profits and marketers, eZ-Xpo is pleased to announce the launch of the "Jumpstart Your Business" System that will provide a monthly Magazine, useful mobile app and virtual expo marketplace.
SAN FRANCISCO, CA – September 26, 2013 – eZ-Xpo announces a new "JumpStart Your Business" Magazine to help educate local businesses, non-profit organizations and global enterprise to leverage new ideas, new strategies, new applications and execution plans to achieve a sustainable competitive advantage and growth.
In today's stagnant yet competitive marketplace, every company needs to innovate with new game changer ideas to compete in a new "Blue Ocean" instead of the "Red Ocean" or "Me Too" marketplace. This new objective will require a more effective way of serving customers with better value and unique services. The vision of the "JumpStart Your Business" is to help build a virtual business collaborative ecosystem with thought leaders in providing valuable content, ideas, strategy, applications, and executions for every company on a daily, and weekly basis.
The "JumpStart Your Business" System will consist of the following:
* A "JumpStart Your Business" mobile application on both IOS, and Android will be launched in mid-October, 2013. The mobile application will cover weekly JumpStart Your Business tips and ideas.
* A monthly "JumpStart Your Business" magazine will plan to launch in late October, 2013 and will support both IOS, and Andriod.
* A "JumpStart Your Business" Virtual Expo Marketplace will be launched in early Novermber, 2013.
The "JumpStart Your Business" magazine will cover practical topics as follows:
* How to Model Proven Business Strategy from Amazon, Google, and Apple
* How to Compete Against Your Competition with Customer-Focused Strategy
* How to Constantly Generate Qualified Leads without Losing Your Shirt to Google Adwords
* How to Nurture Your Qualified Leads Everyday
* How to raise Your Start-up Funding through Crowdfunding
* How to Leverage Social Media for Massive Qualified Leads
"We are excited to offer all current and potential clients a free online subscription to online magazine, and mobile application. Today's entrepreneurs need new game changer strategy to compete in an ever evolving competitive business landscape, " said Matt Fok, Founder and CEO of eZ-Xpo
"From a marketing perspective, it's a creative way to bring all thought leaders and game changers in one single virtual expo environment where everyone can showcase their new ideas and applications in a virtual booth 24/7. In addition to its useful content, the magazine also acts as an advertising and marketing platform for all the services we and our partners offer. Its refereshing & powerful way to communicate to every partners and client," added Fok.
For early bird registration, please sign up here for a free subscription to Jumpstart Your  Business.
eZ-Xpo is currently looking for content contributors to participate in the new multimedia channel and showcase their expertise. If you are interested in this, please feel free to contact Matt Fok [email protected]. Each contributor will be recognized in the magazine as well as in the Virtual Expo Marketplace with a FREE complimentary Virtual Booth and Social Learning capability.
Sponsors and strategic partners for the "JumpStart Your Business" campaign include:
Black Caucus of California Community with over 114 campuses
Blogtalkradio/TrueNubia
BridgeTechGap.com
college.lattc.edu/
Global V Square
GGBA
Greentechnologyinstitute.org
Hispanic Chamber of Commerce
Jobscreatepeace.com
Livestreamers.com
Pvjobs.org
Strategi LLC
Tecvegas
TradingTotal
Univermind.es
* Product or service names mentioned herein may be the trademarks of their respective owners.
About eZ-Xpo
eZ-Xpo is a revolutionary new approach to virtual events, virtual trade shows, private business networking marketplace. eZ-Xpo delivers the world's 1st all-in-1 virtual expo marketplace that seamlessly integrates with built-in marketing campaigns to follows up with every prospective customer during and after the event.eZ-Xpo goes beyond traditional trade show and virtual event tools by harnessing the power of the Internet, proven best of class marketing automation technologies (i.e.,SalesForce.com , Mailchimp, eZ-Contact , and eZ-Web Conferencing) and making everything available to you in an integrated and intuitive online interface.
Contact:
eZ-Xpo
Matt Fok
Founder and CEO
[email protected]
Phone: 1-888-718-5333