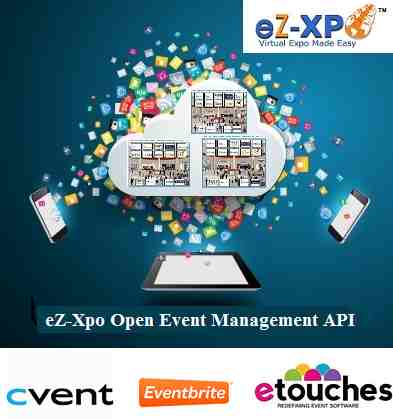 SUMMARY: From Eventbrite to Cvent and Etouches, eZ-Xpo empowers event organizers and meeting planners with the introduction of Event Management integration for any virtual event, trade show, conference, music concert or event anywhere in the world.
SAN FRANCISCO, CA – August 16, 2013 – eZ-Xpo, the global leader in All-in-1 Virtual Trade Shows and Private Business Networking solutions, announced the release of it eZ-Xpo Event Management Integration. The eZ-Xpo Event Management API works with a variety of platforms such as Eventbrite, Cvent, Etouches, Amiando, RegOnline, EventPro, Eventbee, and many others. The new event management integration feature offers easy event management planning, registration, and promotion for any organizer of any live event, such as trade shows, user conferences, concerts, sports, entertainment, personal events and virtual expo marketplaces.
Event Planners have a challenging job. Not only do they have to be able to multitask and put out fires at the same time; but these high paced professionals also have to deal with a never-ending stream of requests. How quickly one can respond to requests depends to a large degree on how quickly they can access accurate event information. Real-time data is a critical element to success for meeting planners and event organizers.
"The new event management API integration helps simplify the logistics of registration and planning for meeting and event organizers. We understand that having a robust, yet easy to use event management system is so important." said Matt Fok, Founder and CEO of eZ-Xpo. "The integrated tools make management of any event simple," he explained.
"We constantly innovate to help simplify the overall event planning process and empower every event planner to save time and expenses with accurate event information for 100% customer satisfaction," he added.
Through eZ-Xpo's strategic event management integration, meeting planners and event organizers can:
* Integrate the Reporting for Event Sales: The integration allows users to combine excel reports without the need of a calculator to get a sum for total sales. Event data will be aggregated directly into the eZ-Xpo dashboard.
* Enable Attendees to Setup Event Schedule Pages: One of the most powerful aspects of this integration is that eZ-Xpo event organizers can now add an effective marketing 'Call to Action' widget to the event's order confirmation page. The 'Call to Action' will prompt registrants to setup their own virtual expo page on eZ-Xpo – Virtual Expo Marketplace, and all pages set up by attendees will sync with the eZ-Xpo account where reporting will be aggregated.
* Sync Event Attendees and Communication: For example, with Eventbrite registration with an eZ-Xpo event, organizers can email Eventbrite registrants directly from the eZ-Xpo platform and send out customized emails. It can also setup automated emails. This feature will be also available for other event management software providers.
* Simplified Virtual Expo's Registration Pages: Add a small Widget to eZ-Xpo –to an eZ-Xpo event for an easy way for attendees to join. Using an Eventbrite registration widget, the event organizer can drive potential exhibitors and attendees to the website knowing that they'll find exactly what they are looking for.
"With our eZ-Xpo Event Management Integration solution, we will be able to help continue to revolutionize how we plan every physical and virtual event," said Fok. "Both eZ-Xpo and Eventbrite customers can try out the new feature and see how easy it is to use."
In addition to the Event Management integration, eZ-Xpo 2.0 is built to help businesses increase sales and customer satisfaction, while at the same time, boost their bottom lines. The eZ-Xpo Platform's new All-in-1 Virtual Trade Show Marketplace solution for social Customer Relationship Management offers a variety of advantages to other platforms namely, Automatic marketing automation, Daily Deal feature, knowledge sharing and marketing intelligence.
To learn more about how eZ-Xpo Event Management Integration can propel any conference or trade show, please visit www.eZ-Xpo.com for details.
Product or service names mentioned herein may be the trademarks of their respective owners. To learn more about how to JumpStart Your Next Physical Trade Show, please click here.
About eZ-Xpo
eZ-Xpo is a revolutionary new approach to virtual events, virtual trade shows, private business networking marketplace. eZ-Xpo delivers the world's 1st all-in-1 virtual expo marketplace that seamlessly integrates with built-in marketing campaigns to follows up with every prospective customer during and after the event.eZ-Xpo goes beyond traditional trade show and virtual event tools by harnessing the power of the Internet, proven best of class marketing automation technologies (i.e.,SalesForce.com, Mailchimp, and eZ-Web Conferencing) and making everything available to you in an integrated and intuitive online interface.
For more information on eZ-Xpo, please visit www.eZ-Xpo.com
About Eventbrite
Eventbrite enables people all over the world to plan, promote, and sell out any event, and has sold over 100 million tickets worldwide. The online event registration service makes it easy for everyone to discover events, and to share the events they are attending with the people they know. In this way, Eventbrite brings communities together by encouraging people to connect through live experiences. Eventbrite investors include Tiger Global, Sequoia Capital, DAG Ventures, and Tenaya Capital. Learn more at www.eventbrite.com.
Contact Information:
eZ-Xpo
Matt Fok
Founder & CEO
Email: [email protected]
TAGS/ keywords –event management, meeting planner, event planner, virtual trade show