SUMMARY: eZ-Xpo in partnership with Nous Communications, the Publisher of College People Magazine aims to jumpstart local creativity and learning in Lagos, Nigeria with Virtual Social Learning and Creative Genius Contest competition.
San Francisco, CA – July 9, 2014 – eZ-Xpo, the global leader in Virtual Collaborative Network Ecosystem and Virtual Expo Marketplace, today it is pleased to announce the world's 1st Virtual Creative Genius Expo (www.geniusexpo.com) in Lagos, Nigeria through strategic partnership with College People Magazine and with its first Virtual Creative Genius Expo – "Create Your Future – Creative Genius Expo" in late July 2014.
The first kick-off event focuses on helping local young children to develop creativity and learning through fun, games, and contest competition in Nigeria with global educators, experts, and mentors from around the world.
The objective and vision of Creative Genius Expo Marketplace are to offer a global collaborative learning community for young children and adults to unleash their creative genius across all disciplines (i.e. Arts, music, math, science, and business). It will also help everyone connect, collaborate, and learn with mentors and experts in a live, on-demand virtual environment around the world.
"We are excited to partner with eZ-Xpo and eLearningZoom to help jump start local creativity and education in a new fun and exciting contest competition in Nigeria. With today's high unemployment rate in the young adult segment, we definitely need to think outside the box to create their future career with new practical learning skills," said Bukola Owo-bello, Co-Founder Nous Communications, the Publisher of College People Magazine.
"The Creative Genius Expo Network is the perfect collaborative learning ecosystem combining the capabilities of social learning, contest competition, virtual expo, and mentoring all-in-one through a single portal," added Bukola
"Nigeria has surpassed South Africa with GDP $510 billion in 2013 and $190 billion bigger than South Africa's GDP as the largest economy in Africa. As Mark Mobius, the leading mutual manager from Templeton Emerging Market Fund recently expressed "superbull" in the region, I am also super bullish with the region especially when we have the perfect network ecosystem with both game changing technologies, strategic partner network, and best practices to make that happen," said Matt Fok, Founder and CEO of eZ-Xpo.
"Through the partnership with College People Magazine and Ultimate Konsult Group, we can help jumpstart local creativity, education, and job creation with exciting contest competition and practical expert learning across all disciplines. With our collaborative network ecosystem across virtual learning, virtual job fair, and virtual expo, we can help bridge all missing links and create a dynamic vibrant talent pool and job creation," said Fok.
The "Create Your Future – Creative Genius" Network Ecosystem will include the following game-changing collaborative cloud applications:
Virtual Creative Genius Expo – Children and young adults can unleash their creative genius through a series of contest competition and social learning across different disciplines (i.e., Arts, science, legos, singing, math, and business). Participants will showcase their creative genius in the virtual booth so judges and mentors can offer them feedback for improvement.
Virtual Startup Expo – Global entrepreneurs, investors, and advisors can connect, collaborate, and promote each other's services or offerings live and on-demand in a virtual lobby. The entrepreneur can upload their virtual pitch deck to their virtual booth for review. Investors can easily and quickly search for their perfect "next Google" based on predefined investment criteria
Virtual Creative Financing Expo – Entrepreneurs can explore different creative financing models (i.e., crowd funding, EB5, SBA loans, debt financing, angel funds, venture capital) with experts and advisors in different disciplines
Virtual Job Expo – Participants will be able to showcase their latest and greatest accomplishments in an easy to use virtual booth. This will also enable entrepreneurial employers to showcase exciting new job opportunities and provide a one-stop place for screening, interviewing, selection and on-boarding.
Virtual Learning Marketplace – Enriching every member with a wealth of professional online and online learning repository. The Virtual Learning Marketplace focuses on entrepreneurial topics such as digital marketing, cloud computing, legal and business expertise – particularly around international trading. Experts can also easily and quickly launch their own online course (via eLearningZoom).
For additional information on Genius Expo, please visit http://www.geniusexpo.com or contact Matt Fok at [email protected] or Kehinde Oke at [email protected].
Here is a short list of sponsors and exhibitors: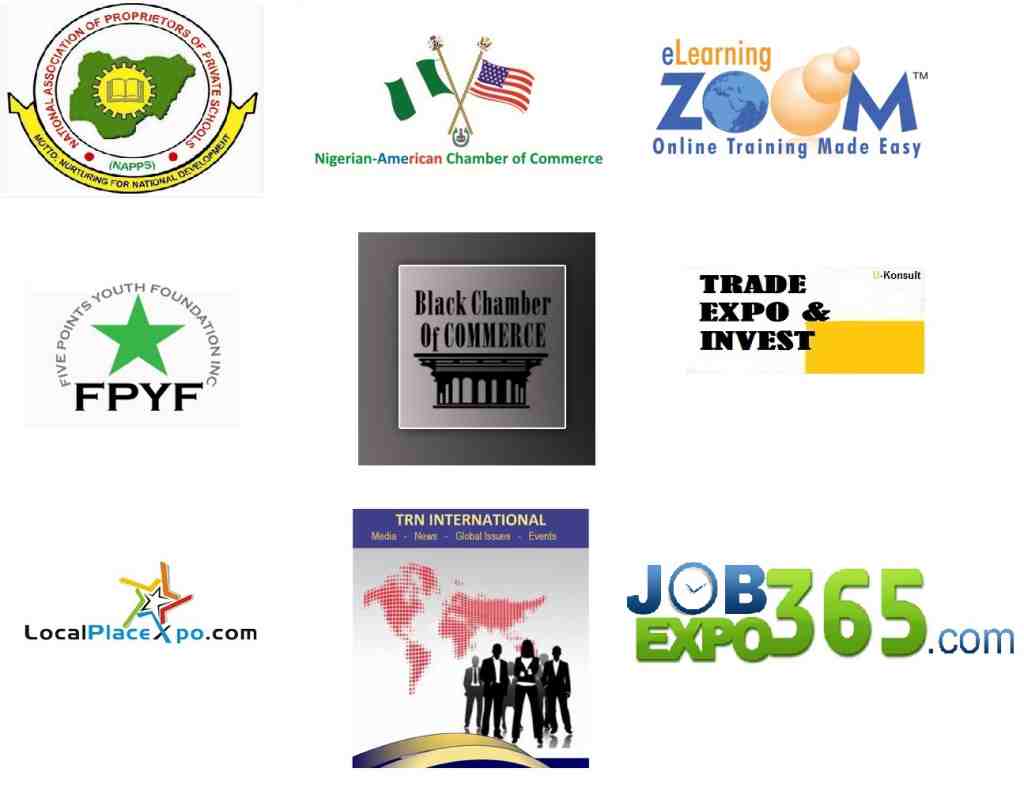 About College People Magazine & Nous Communications LTD
Nous Communications is one of the leading education marketing companies in Nigeria. The firm is poised to increase the standard of learning by helping schools attain this standard creative development and initiative and as well, exposing these schools to parents and other stakeholders in the education sector. Better understanding of the education sector has also equipped Nous in assisting schools and educational brands to reach their targets speedily, efficiently and effectively. Nous Communications is the publisher of College People Magazine.
College People Magazine links the older generation of successes, especially in the entrepreneurship world with the next generation of champions. College people magazine is poised to showcase significant extracurricular and academic activities among schools in Nigeria and beyond. The magazine advocates for moral values that are of paramount importance to the total image of our almost tainted society.
For more information about, please visit http://www.nouscommunications.com/about-us or www.ideaslane.com
About GeniusExpo.com
Genius Expo empowers children and young adults become creative, engaged, and lifelong learners. It transforms learning by delivering a collaborative learning network ecosystem leveraging social learning, fun, game, and contest competition with global educators, social entrepreneurs, and experts/mentors. Its mission is to nurture future leaders and creative genius as the builders of tomorrow.
For more information on Genius Expo, please visit www.GeniusExpo.com
About eZ-Xpo
eZ-Xpo helps businesses connect, collaborate, and promote through networks of virtual expo marketplaces for a constant lead generation. eZ-Xpo reinvents the trade show and lead generation industry with a revolutionary new approach to virtual events, virtual trade shows, private business networking marketplace. eZ-Xpo delivers the world's 1st all-in-1 virtual expo marketplace that seamlessly integrates with built-in marketing automation to follow up with every prospective customer during and after the event. eZ-Xpo goes beyond the traditional trade show and virtual event tools by harnessing the power of the Internet, proven best of class marketing automation technologies (i.e., SalesForce, Mailchimp) and making everything available to you in an integrated and intuitive online interface.
eZ-Xpo has been operating in Silicon Valley for over five years. eZ-Xpo has deployed the world's all-in-1 virtual expo marketplace, results-oriented virtual collaborative marketing solutions for different industries and industry leaders such as Wells Fargo, New York Life, MetaStock, Boeing, and Raytheon.
For more information on eZ-Xpo, please visit www.eZ-Xpo.com
Contact Information
eZ-Xpo
Matt Fok
Founder and CEO
[email protected]
Phone: 1-888-718-5333
http://ez-xpo.i-newswire.com/press-release/college-people-magazine-joins-forces-with-ez-xpo-to-launch